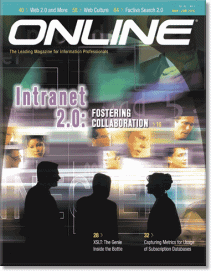 Cover from
Official Site
It's finally here! After talking up our Intranet here on my site (here, here, here, and here) and whenever I talked to people in person, the article is finally here.
My assistant (RayAna Park) and I were lucky enough to get the cover of this month's issue of ONLINE Magazine and we're so excited! I was thinking I might share snippets of code with you all throughout the year, so let me know what pieces you want more information about. I'll admit that we did not write the object-oriented code (like John recommends) but it could still be helpful and useful for you and your library.
Lastly, if you want to learn more you can come see me at the LITA National Forum in October or Internet Librarian (also in October) I will be presenting at both conferences about our Intranet and it's its uses.
[update 8/30/06] It has been more than 90 days so I am allowed to put the full text of the article online. Read it here. [/update]